Filed Under Sketch Comedy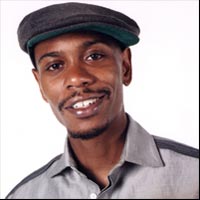 A rumor has gone around that apparently during the taping of Comedy Central's Last Laugh special, they showed a video promoting Chappelle's Show - Season 3. Today, the homepage for comedycentral.com confirms as much saying, "Get ready for a new season of Chappelle's Show in 2006, and get ready for a preview during Last Laugh '05!" Some might wonder if all this pondering of why he quit is now completely moot.
It's not. Variety has the full story. The episodes are the remnants of the aborted third season. They'll first premiere on Motherload - Comedy Central's broadband video site - then will appear on the network. It's a pretty big coup for them to go to the web first and I imagine that's part of what's driving this - let's really make a mark in the digital realm here with lost material from a sketch comedy show that's one of the best sellers on DVD ever (both Season 1
and Season 2
). From previous reports, the network has enough to make five episodes of the show from the material Chappelle created before he left the production for Africa.
The preview video shown at Last Laugh according to this MTV article included "spoofs of MTV's "Cribs" and the Morgan Spurlock fast-food documentary "Super Size Me."
Still, it's uncertain how Chappelle will feel about this development. It's unclear right now if Comedy Central had to do any negotiations with the comic to use the material. It's also unclear if Chappelle will get any of the $50 million now that Comedy Central is going to air the episodes. And since Chappelle originally wasn't happy with where the humor of those shows was going - will he be happy we're going to see the sketches at all? According to a recent article in the Arizona Star about a Chappelle stand-up appearance, when a fan yelled "Season three!", Chappelle replied "This is season three." I'm curious to see the sketches, but one has to wonder if this is really going to be Chappelle's Chappelle's show.