Filed Under Interview, Stand-Up Comedy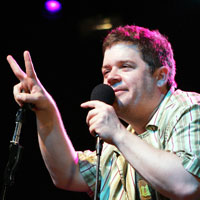 Patton Oswalt begins another branch of his fantastic Comeidans of Comedy tour on April 20th, this time focusing on cities in the middle of the country. He, along with Brian Posehn, Maria Bamford and Eugene Mirman will be visiting not just in places like Chicago and Detroit, but also Milvale, PA and Louisville, Kentrucky. (Full set of dates) I talked with Patton about this swing of the tour and, in a update later today, about what makes the ideal conditions for comedy.
One of the things I noticed with this part of the Comedians of Comedy tour is that, in part, it's going through the middle of the country. And it's incredibly lazy to characterize this part of America as unsophisticated, but unfortunately it's also fairly common. Is doing shows there a sort of point of pride for you, proving to naysayers that these people are ready for your brand of stand-up?
It's actually the opposite, because I've found out to experience that, a lot of people in the Midwest, not all of them, but more of them, are way more politically aware and tuned-in than people on either of the left coasts. Because a lot of these policies that I bitch about in the abstract, when I read about they're fucking with people's healthcare, they're fucking with people's childcare, it affects those people directly. They feel it immediately.
You see not only people that are more politically aware but are actually more hands-on politically active. Whereas on the left coast I think a lot of people are most politically active in the abstract. In the midwest they're like, "fuck, I'll show you exactly what's going wrong." Yeah, in the Midwest you get a lot of ignorance too. But there's a kind of ignorance you can get in LA where you have people who have access to all kinds of alternative media and ignore it, because there's this level of narcissism that is not present in the Midwest.
In fact, if people are pro-Bush, they're Pro-Bush in a very active, vocal way, whereas there's people like Britney Spears out here who are like, (appropriate mocking voice) "I guess we should just listen to the President." That's as far as they go. Fucking pathetic.
I'm played the Midwest my whole career. I've never had any problems. Except for Pittsburgh (where Patton had to be escorted from the stage after comedy club patrons exploded in pro-Bush chanting), people who have a problem with my stuff will come to the bar after the show and we'll just sit there and talk.