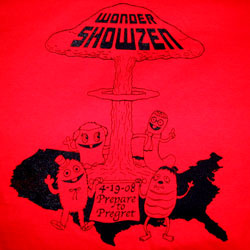 I was fortunate enough to attend last night's crew party for "Wonder Showzen" at Pianos. I arrived just before 8, in time to watch an episode from the upcoming series (don't think it'll be the first episode - it was numbered 203). They had to restart the episode once because the show wasn't playing downstairs. Right before they ran it again, creator John Lee mentioned in passing, "Oh, and the President was just stabbed in the neck."
As for the episode, there's lots of fantastic work I don't want to spoil, but my favorite segment was the already talked-about "Beat Kids" at Ground Zero, which might be one of the funniest things committed to tape ever. Hearing people talk about how they feel about the events of 9/11 while wearing groucho glasses or with radio zoo crew sound effects punctuating what they say is devastating. An animated segment involving peer pressure was also incredible ("Provide for your family! Provide for your family!"). Another great segment where Clarence asks homeless people about their "American Dreams" can be seen here.
Afterwards I thanked John and Vernon Chatman separately for the recent interview they did with the site, both of whom unnecessarily told me they were sorry they couldn't answer more seriously but they don't have it in them. Soon after, partygoers were actively encouraged to head downstairs to witness a performance by "Lumber Rob" - billing them as the best band in the world next to PFFR, of course. It's would probably surprise some people to see how good the creators are with the kids from the show, but watching John Lee shepherd the lone Beat Kid in attendance downstairs to watch the performance impressed me. John promised the boy that seeing Lumber Rob "could change your life."
Lumber Rob is almost indescribable - taped beats combined with whatever live noise he could make with his mouth, both of which occassionally took him enough to begin convulsive dancing. Some were unsure of what to make of it, but the Beat Kid was telling John between songs "that should be the theme song for season 2!"
I also managed to catch David Cross at the party and quickly thanked him for using my Larry the Cable Guy Interview as part of his Open Letter to Larry last year. I also told him I was looking forward to his animated "Freak Show", which he mentioned he just got back from doing some work on and is thinking it may be the funniest thing he done since "Mr. Show." As critical as he can be about his own work (see "Run, Ronnie Run" or even some episodes of "Mr. Show"), if he's liking it this much, it's probably a comedy nerd's dream.
I dashed pretty soon after, but not before snagging a T-shirt with the image you see at the top of the post. Prepare to Pregret 4-19-08 indeed.