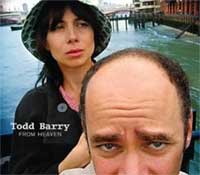 Here's a quick look at an album forthcoming from Todd Barry. "From Heaven"
is Barry's third album and was recorded in front of a very raucous and appreciative crowd at Boston's The Comedy Studio.
This track features Barry sharing how this some information he does not need to know about his partner's anal sex history and why you should plan to sleep in if you have sex with him.
"From Heaven" hits stores on March 4th.