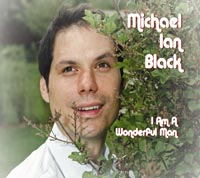 Fans of Michael Ian Black might be a little surprised at his new album entitled "I Am a Wonderful Man."
Based on Black being an early regular at the New York Alternative showcase "Eating It" or his cult sketch-sitcom hybrid "Stella", one might expect something more obtuse - not necessarily for everyone, but entertaining for those who get it. But the disk is very much traditional stand-up, albeit informed by Black's own particular surreal bent.
The following is part of the track "Terrorism" which has Black relating his favorite airport game and the unexpected, terrorist-affirming place it ends up.