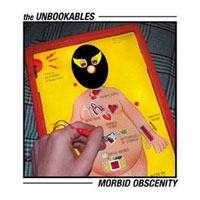 Doug Stanhope has begun a serious campaign to be elected President in 2008. If you'd like to see how Doug would handle the millions of people who find themselves without health insurance, you may want to check out Morbid Obscenity - a benefit CD for one self-admitted fat son-of-a-bitch.
The fat son-of-a-bitch, Mr. Hinty, finally decided that the gastric bypass surgery his doctor had been recommending was now an absolute necessity. So much so that he was willing to take out a loan to pay for the $25,000 operation that his employer's health insurance will not cover (after covering it at some point - the bastards). Once Doug Stanhope heard his friend might even sell his house to pay for the operation, he promised to help.
Hinty later discovered that Doug Stanhope had attached himself and Lynn Shawcroft to a previously planned gig for Sean Rouse and Andy Andrist at The Skyline Comedy Cafe in Appleton, Wisconsin. The idea: record the show and release it as a CD for $20 a pop, with the help of Stand-Up Records. They have to sell 1,500 to cover the full cost of the operation. It's also the first release of a loose group of comics called The Unbookables (which also includes Neil Hamburger). Doug Stanhope conceived the group as a way of unifiying comics he felt went unnoticed due to a lack of marketability - "Fuck-ups, in short" as the Unbookables myspace page describes them.
As of the end of July, they'd made $7,000. Enough for Hinty to take out a loan for the rest and set a date for the operation, which just happened this past Tuesday. There's been no update on his condition, but let's take no news as good news. But there's a definite call to sell more CDs to cover the rest of the operation, with the promise of a bonus CD of collected audio filth that sounds like the aural equivalent to Concrete TV if you order by midnight (central time) tomorrow. All the Unbookables CDs are autographed by all the performers.
There are MP3s from the show on the Morbid Obscenity site as well, if you need a little bit more inducement besides helping defray someone's medcal costs. The one from Andy Andrist fits the occassion quite nicely, castigating a Wisconsin audience to lay off the cheese, "you fat fucks." You can buy Morbid Obscenity here.
Update: Hinty out of surgery and gives a pretty graphic account of the days afterward. He's home and resting and certain he did the right thing.