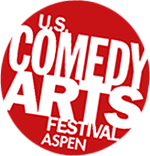 Some of the big shows have been announced for Aspen. Here's a rundown of the highlights:
Stand-Up performances from headliners like George Carlin (who is apparently in his 50th year in comedy), Steven Wright and Katt Williams, who's probably prepping his "I've never seen so many white people in my life" material right now.
A screening of The Rickles Project, a documentary by John Landis on the life of Don Rickles. Both the subject and the director will be on hand for the Q&A and Rickles will receive the first ever USCAF Pinnacle Award (his second award in two festivals, the first being the also-first-ever Caesars Palace Laurel Award). When I saw Landis in Las Vegas, he mentioned the film wouldn't be done until he captures Rickles' run at the Golden Nugget, which is just a few short weeks before Aspen
Since the festival is organized by HBO, it should be of no surprise that the entire cast of Entourage will be on hand for a behind the scenes show.
A preview of the new comedy show "The Winner" which features Rob Corddry, a succussful man in his forty who looks back at when he started to mature, at 32. Corddry and series creator Ricky Blitt will be on hand for a Q&A as well.
There will also be a show called The Gaggle, of which there's very little details, save for it's a discussion roundtable featuring comedian, journalists, politicos and bloggers.
And separately will be an event called Blogging: Buzz vs Bizz with folks like Mark Lisanti of Defamer. Harvey Levin of TMZ and Jessica Cohen of Vanity Fair who will obviously discuss the snarky voice of the space, when they aren't making fun of the panel, that is.
Plus, another young comic heading to the fest will be Michelle Buteau, as mentioned by the site for the regular downtown show Chicks and Giggles. I suspect that every spot has been filled yet, so we may yet see more announcements on the web as comics hear themselves.
The US Comedy Arts Festival will be February 28 to March 4, and of course passes are on sale now.
Update: Thanks to eagle-eyed reader Rick, we also know that Michael Showalter will be Aspen, performing with Mary Lynn Rajskub and John Oliver.