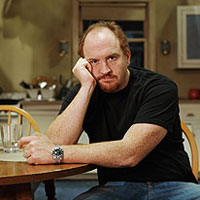 I've made no secret that I believed in the sitcom Lucky Louie. I know a number of friends who were disappointed to hear that HBO was not picking it up for a second season. Louis CK promised that it wasn't the end, but after one meeting in an attempt to bring it to a different network, he posted on the comedy message board aspecialthing.com that trying to make Lucky Louie anywhere outside of HBO would be "a huge mistake." At the same time, fans have established a Save Lucky Louie campaign independent of Louis own efforts. And according to Louie, getting HBO to change it's mind is the only hope the show has.
I'm never very optimistic about these campaigns, but several of my friends, my wife and myself have found this show to be refreshingly honest inside the three-camera format that has, in recent years, been anything but honest. It's an unique gem. If we only get the one season and the requisite DVD release, I'll be pleased that we got that. But if there's a way that we can get more, let's give it a shot.
First, if you haven't been driven away from myspace by rabid marketing bulletins, there's the Save Lucky Louie myspace page which is pretty good about co-ordinating the efforts. Add it to your top 8, 12, 16, 20, 1000.
There's also an online petition, which has over 6,000 signatures so far. If you go back a ways you'll even see other comics have signed the petition themselves.
And folks can also write HBO directly about Lucky Louie. As co-star Jim Norton said: "They're a big company but they aren't deaf." Just don't call them assholes for cancelling it the first place. Be passionate but polite.