Sasquatch Comedy Tent, Part 1
Filed Under Improv, Live Events, Stand-Up Comedy
My good friend Julie Seabaugh, who I've taken more than a couple of cues from as far writing about comedy, attended the music fest Sasquatch. But instead of the music, sheengorged herself on the offerings from the comedy tent, a welcome new addition to the fest. Here's her report.
Though it's the seventh go-round for the rural Washington-state music gathering known as Sasquatch!, 2008 was the first year the hairy-palmed hootenanny hosted a Comedy Tent. And while David Cross/Aziz Ansari/Nick Kroll's first-and-only rendition of "You Might Be a Deadneck If…" at Bonnaroo 2007 set the bar impossibly high for all future festival lineups, the Sasquatch names, considering the Tent's infancy, were impressive in their own right. Among the high- and lowlights:

Saturday, March 24
Best Group Effort: UCB Presents ASSSSCAT, featuring Matt Besser, Matt Walsh, Horatio Sanz, Tim Meadows, Sean Conroy, Jerry Minor and Rich Fulcher. The Brigade ushered in the first day with a brain-blowing four afternoon/early evening performances.
Healthiest Sign of Life I: Prior to ASSSSCAT, the line stretched from the Comedy Tent gate, up the hill, and past the VIP Zone, the wooden statue of a bear playing the guitar, the Mike Patton-fronted Crudo opening their Wookie Stage set with "Running with the Devil," and beyond.
Best Cross-Promotion: Besser to a female audience member: "Would you have sex with the members of Flight of the Conchords?" Female audience member: "I want to have sex with their manager."
Hairiest Reoccurrence: Reggie Watt's prodigious 'fro. At media check-in. Strolling by the Wookie Stage. By the rear sound board before ASSSSCAT. Distributing bottled water to the front row 20 minutes before his own Sunday performance. Hiding beneath a tie-dyed tee near the tent's picnic tables after.
Celebrity Most Desperate for Street Cred: Office-mate Rainn Wilson, at the festival promoting upcoming feature The Rocker, glad-handling drunken fans in the back of the room during ASSSSCAT's 6:30 p.m. slot.
Sunday, March 25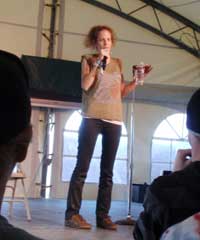 Healthiest Sign of Life II: At noon, a group of four was already first in line for the People's Republic of Komedy show featuring Andy Haynes, Kevin Hyder, Aziza Diaz, Derek Sheen and Andy Peters…which began at 3 p.m.
Oddest Item Spied on Comedy Tent Floor: Post-Reggie Watts' blistering 45 minutes of music-looping wizardry, sexual innuendo, mobius-like wordplay and spot-on M.I.A. impression: a used condom.
Healthiest Sign of Life III: Comedy geeks who didn't leave the tent all afternoon – and why would they need to, when drinks/porta-potties were right there on the premises? – gradually inching forward with each performance, into the 30 folding chairs at stage front and remaining in their staked territory for upwards of five hours.
Best Context-Driven Banter: Two slurring women in the back questioning dark 'n' deadpan Morgan Murphy's complaints about the hour-plus line for campground showers: "Why would you shower?" Murphy: Because yesterday like eight guys came on my face…Did I tell them they could? No, but R.E.M. was that good." And Murphy, minutes later, referring to the current indie band sound-bleeding into the tent: "Ah Jesus, who's playin' now? Somebody sad."
Recipient of the Sarah Silverman Award for Distinguished Achievement in Really, Really Needing to Write New Shit: Cuddling with wife? Mouth baby? Dennis Rodman? Samurai sword? Puppy time? You look like you like to bend sluts over and pound their assholes? That overdone "Hairless Yeti" yelp? We salute you, Brian Posehn.

Lines to get into the comedy tent. Always an encouraging sign…
Another report (and more photos) to come later from Julie on the rest of the doings at the Sasquatch comedy tent.