Must Have Now: Comedy Geekdom and Collecting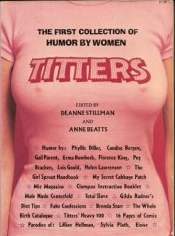 An illustration of the depth of my comedy geekdom. Today, out of the corner of my eye while grabbing lunch, I spotted a copy of the 70s humor anthology "Titters"
on the book trucks outside the Strand, the big NYC used book store.
Published in the 70s around the heyday of both National Lampoon and Saturday Night Live, "Titters" claims to be the first collection of female humor and was put together in part by SNL and Lampoon writer Anne Beats and art directed by John Belushi widow Judy Belushi Pisano (nee Jacklin) with contributions from people you'd know like Gilda Radner, Candice Bergen, Laraine Newman, Phyllis Diller and Anne Meara.
It's not necessarily a major classic, but a minor one. And I wanted it. The reason I saw it was some other man was looking at it - I speculate because the cover is, ah, a bit more male friendly than you'd expect for an anthology of women's humor. So I pretended to browse until he put it down. And I continued to pretend to browse after a second man picked it up before I could get to it. Reading the one page "Sylvia Plath Cookbook" from the book makes me glad I waited those two probably confused guys out.
There's not necessarily a lot of stuff when it comes to be a collector of comedy stuff. It's one of the saving graces of the fandom. But I'm curious - is there a comedy rarity that you found in a record store, book store, eBay or over the web as a torrent that you took more than a little joy in discovering?