Giveaway: The Onion's "Our Dumb World"
Filed Under Print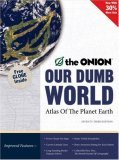 For the past few years, the Onion followed up to its first book "Our Dumb Century"
with repackages of headlines that have run already in the print and online editions. While it was great to have those in a more archiveable format, the true successor to that breakthrough book is the Onion's "Our Dumb World."
Breaking from the newspaper parody format, the book applies the Onion voice to an Atlas targeting almost every country on the planet (with some resentment - a couple of sections are called "The Seriously Who Cares Islands" and "More Fucking Islands." Death is also wished for the population of the small nation of San Marino). The results create a book with even greater joke density than the mock front pages of its predecessor. With as much as that did make it into the book, it's hard to imagine what ended up on the cutting room floor.
The book is designed to be read a couple of ways. The restless can flip through and get a quick hit here or there, but many of the countries entries have a unified theme, a central joke that much of the entry can hang on: Turkey becomes a country desperate to be moved from the Middle East to the European section of the book, Sudan's problems were solved by American petitions, slogans and bumperstickers and Antigua becomes a giant wedding reception hall.
Humor books are traditionally just tossed off and churned out, so the attention again to production value here is amazing. The Onion book would be easy to mistake for an actual coffee table Atlas at first glance with full color photographs, detailed maps and charts and lavish design.
For a chance at winning one of three copies of the print and audiobook version of "Our Dumb World", write me at .(JavaScript must be enabled to view this email address) with your address (U.S. or Canada only) and the subject line "Our Dumb World" by Midnight, November 25.