David Cross Responds to Larry the Cable Guy's Comments in "Git-R-Done" (And so do I)
Filed Under Print, Stand-Up Comedy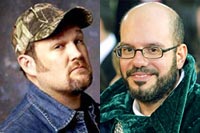 Larry the Cable Guy recently took on David Cross in his book "GIT-R-DONE"
for slamming him in a profile of the redneck comic from Rolling Stone. Larry said that particularly takes umbrage ('cept he doesn't use "umbrage") to Cross "hammering his fans" and asserts that Cross takes himself too seriously, that nobody ever comes to a comedian to make foreign policy. He also details how Rolling Stone went looking for a comedian to talk shit about him (with Lewis Black declining). In that same chapter, Larry also called me an idiot (not by name, mind you) for an interview I conducted with him for this site. More on David Cross's response and my own after the jump.
David Cross published an open letter to Larry the Cable Guy on his own site. It's a fantastic blast of sarcasm (describing his reaction to reading about himself in Larry's flatulence-obsessed tome as "I farted up a fartstorm"). David cops to Rolling Stone having a bias, but points out that's what the press does and that Larry can't possibly be surprised. He then deconstructs his own Rolling Stone quote, asserting that he does know Larry's audience ("dumb redneck, easily entertained, ignorant motherfuckers") and that Larry's act is racist (quoting Larry on Arabs as "commie rag head carpet flying wicker basket on the head balancing scumbags"). Cross, with his eye for hypocrisy, points out that pretending to be a "good ole boy" who all about his over-paying fans while making millions is, to his personal taste, rather disgusting. For Larry to be offended that Cross thinks he's "not real" is insane to David, because Larry the Cable Guy (real name: Dan Whitney) is an act. It isn't real in the first place. David suggests that if he really cares for fans, lower ticket prices (current low I found online - $37.50/seat).
I actually checked out the book a little while ago to read the chapter on Cross, figuring it would be blog worthy and was a bit surprised to find the blog quoted on page 93. (David, I too, farted!) Since Larry doesn't know me from Adam, I'm classified as one of those "college students who think their shit don't stink." My shit may not stink, but man do my farts! P-U! (I'll stop the Cross imitation here, because I sadly suspect I might suck at it.)
Larry misquotes my interview question, but at least he doesn't get the actual content completely wrong as he does when he misquotes David Cross ("in a stage of vague intellectual pride" vs. "a state of anti-intellectual pride"). His book quotes my question as:
"I see where your dad was a preacher. Do you think it's possible to do your act and still be a good Christian, and how does fundamentalists trying to put restrictions on the FCC affect you?"
Restrictions of the FCC? The FCC is the agency that does the restricting. Did anybody even bother to check Larry's logic? My actual question:
"You are the son of a preacher. What difficulties do you have being a good Christian AND a good comedian? How do you feel about fundamentalists' attempts to get the FCC to tighten restrictions on television?"
(You can read the full interview here)
Larry concludes from this question that I am "an idiot" and then mentions he believes the FCC has "overstepped their bounds and have no common sense about them." Apparently, he considers any questions about his religious background to be a "retarded blast of crap" because he's a comedian and his shows aren't "revival meetings." Never mind that Chapter 3 of "GIT-R-DONE" details how his second catchphrase "Lord I Apologize," evolved out of his relationship with his preacher father. It was a question about influences and it's obvious that his religious background influenced him if it led him to pretend to apologize whenever he told a joke he thought his father wouldn't approve of. If it's a dumb question to ask, why the hell does he's spend a chapter of his book detailing how religion influenced his act?
Unlike the allegedly biased Rolling Stone writers, I came into my interview without any intentions of "nailing" Larry the Cable Guy. I figured that he had to be pretty smart to have built his act, which has some well-constructed material. It's not corny Hee-Haw jokes, it's got the rhythms and the reverses of comedians of many a "hip" nightclub comic dressed in a persona recognizable to many Americans. It's calculated stupid comedy. Larry the Cable Guy's stand-up has made me laugh sometimes. If it can make me laugh, I'm interested. As my friend Jesse Thorn said, "You were *so* respectful in that interview."
So when I received the answers to his interview questions, in all caps with several misspellings, I was a bit torn. I was certain that Larry could spell and find the caps lock key, so it seemed like all the mistakes were a deliberate extension of the character. On the other hand, mistakes are mistakes, and I wasn't entirely certain it's good for a comedian to look stupid, even when they're playing a dumb hick. In the end, I figured my own doubts about Larry's errors meant it would be best for readers of the interview to decide for themselves. (I didn't do [sic]s because I thought it tilted the reading a negative way. I did feel the need to apologize for the SHOUTING, because that's just online etiquette.) In a strange circle, David uses the misspellings in this interview to prove Larry's "anti-intellectual pride."
Whatever I feel about Larry the Cable Guy's comedy, I'm pretty glad he doesn't talk about his politics on stage. They're abhorrent. David detailed some examples. I think I'll give you some more:
On the Lyndie England Abu Grahib photo:
"...hysterical. It was the kind of uplifting thing that we here at home needed to see."
And the photo of the naked pyramid pile, he was
"laughing at it like it was a sketch from Comedy Central."
Maybe it is a good thing comedians don't set policy, Larry.