Filed Under Comedy Writers, Interview, Print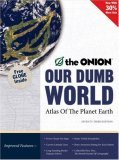 Tasked with following up the breakout book "Our Dumb Century"
, Onion Writers Mike DiCenzo and Dan Guterman headed up a project which would be daunting all by itself. "Our Dumb World."
sets out to satirize not only the big nations of the world but almost every commonwealth, protectorate and island on the globe. I talked with DiCenzo and Guterman about how this book is a departure for the Onion, the missteps along the way in its creation and why it is not a toilet read.
I've really enjoyed the book. I can't say I've read all of it because it's dense. Amazingly dense.
Dan Guterman: Yeah, it took about 14 years to write.
(Laughs) Which means you started this book before "Our Dumb Century."
DG: We did. We actually took a break from this book, whipped out "Our Dumb Century" in about three weeks and then returned to this book.
You guys weren't there when the Onion did "Our Dumb Century", correct?
DG: No we weren't.
So was this intimidating to mastermind putting together a follow-up?

Mike DiCenzo: Absolutely. It started a couple of years ago when Scott Dikkers [early and current Onion Editor-In-Chief] came back to the Onion and basically just walked into the Onion and said, "We're doing an Atlas of the world." Especially for me and Dan, we wanted to work as hard as possible to make it a worthy follow-up to "Our Dumb Century" which both of us loved and worshiped.
DG: We both were practically introduced to the Onion through "Our Dumb Century". I remember picking up a copy and being completely blown away by its intelligence and density and pure funniness. It was a big deal for us to do the follow-up.