Filed Under Improv, Interview, Print, Sketch Comedy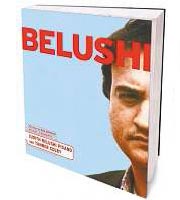 John Belushi, more than twenty years after his death, has finally received the biography he deserves. "Belushi
" assembles anecdotes and stories from John's family, friends and collaborators in the oral history style of "Live from New York"
. The form befits "Belushi" more than "Live," fitting the form of a scrapbook where the phrase "Eat a Bowl of Fuck" is the norm. I talked with Tanner Colby, co-author of the book with Judy Belushi Pisano, via e-mail about the book and the man. You can meet Tanner, Judy Belushi Pisano and the webbed wonder Dan Aykroyd at
the Lincoln Center Barnes & Noble (66th & Broadway) tonight at 7 PM for a signing/discussion.
As a comedy writer who didn't have the chance to work with John Belushi, did collecting these interviews ever make you feel like the guy who arrived late to the party (i.e. "You shoulda seen this guy…")?
Quite the contrary. I was six years old when John died, so the chances of my making it to that party were fairly slim. Collecting the interviews, and helping Judy set down the definitive portrait of John and his era, let me be a small part of what went on in those days, which was pretty damn great.
Obviously this book will be contrasted against "Wired," which could have been about Len Bias or anyone else who died of an overdose. It's not about Belushi the man or the artist. Yet, the book doesn't shy away from John's dark side. It's a complicated portrait. Was there any temptation to remove the warts to balance out Wired's portrayal?

We never wanted to remove the warts. We just made the editorial decision not to put them under a laser microscope. Everyone knows how John died. It's old news. We chose to focus on the good things, and, given the inevitable ending, that made the story all the more tragic.