Filed Under Animation, Interview, Sketch Comedy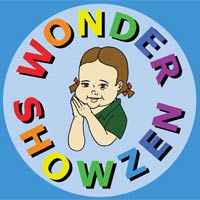 Vernon Chatman and John Lee are the creators of "Wonder Showzen", which is quite simply, brilliant. The show is much more than a parody of a kids show. The darkness of the content, like a segment where children will talk about a trip to the hotdog factory that turns into taking heroin with the workers, is played against the kid's-show form ("I got to ride the black pony!") in a way that leads to explosive laughs. This season they might run a segment when children ask people to recount their Sept. 11 experiences while wearing Groucho glasses. Wonder Showzen's first season DVD
was released today and its second season begins on MTV2 this Friday (9:30 EST). A preview segment can be seen here.
I interviewed the creators Vernon and John over email. I asked them about horror and humor, what children can get away with and, of course, patience. They answered me with… well, just read it.
Matt and Trey have often said while describing South Park that "Children are assholes." What do you think of children?

Children are the magical glue that keeps our society hurtling towards guaranteed destruction. Every morning we force feverish miscreants (selves) to huff that glue, before we translate their death spasms into morse code, and then into English. We lay it out into script format and shoot. Children's assholes have almost nothing to do with it. What Matt and Trey were probably trying to say was that they are so rich, they can afford to shit from children.
Wonder Showzen attaches a lot of horrific elements to the humor – blood, screams, decomposing and dying animals. How close are horror and humor in your minds?

Our minds are so tiny and so symmetrical, everything is crammed equally close to everything else up in there. That said, anyone who has watched helplessly as their entire family was mercilessly and methodically butchered before their eyes knows firsthand how delightfully interchangeable horror and humor truly are.
Some of the performances by children in the show are absolutely spot-on in terms of inflection – they'll say the line exactly as an adult might. How hard is it to get these performances?
Have you ever placed a medicinal lozenge in the mouth of a dead mule and then attempted to pull it back out from the other end of the beast? You have? I'm jealous of you. Because you've had it easy. Also, you smell nice. Especially your hands.