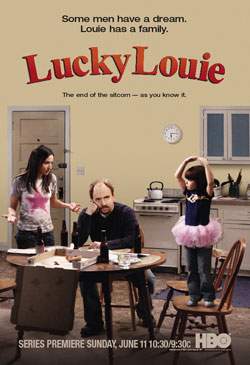 More about why I think Louis CK's new show for HBO is a fantastic sitcom:
Rick Shapiro
You don't see much of him as Kim's brother "Jerry" in the first two episodes - just the wonderful contradiction of him as a cheerfully ratty lowlife holding a juice box at the birthday party that opens the first episode. His appearance in the fifth episode is killer. He guides Louie through a series of absurd exercises to get him in shape, including climbing wire fences in front of "apartment buildings and rehab centers." Every moment this jittery weirdo is exercising, more than willing to de-pants himself to show how fit he is. So much fun.
The Kid
Like Everybody Loves Raymond, Louie and Kim have a kid but it doesn't swallow the show. Even better, the kid acts like a kid, rambling on and on at times, often met with a bored "that's nice, Lucy." Even better, she'll inadvertently embarrass her parents and not in convoluted sitcom ways, but just by simply yelling "I don't like black barbie!"
Setting
One of the great reasons why the ratty setting, cracking walls and dingy appliances work is that the show is a traditional sitcom. Any kind of discomfort we might have about being with these people in a place that's not entirely pleasant is diminished because we're behind that fourth wall. Television executives are anxious to make every place in a comedy look safe and happy, but they forget we the audience already know we're safe. We're home watching TV. We can have all the comedic tension of being in an awkward uncomfortable place but we're not stuck in it.
I actually have a poster of "Lucky Louie" (above) and a DVD of Louis C.K. excellent "One Night Stand" special to give away. I'll randomly select a winner from those who write me at .(JavaScript must be enabled to view this email address) before Lucky Louie's airtime at 10:30PM {Pacific Time).