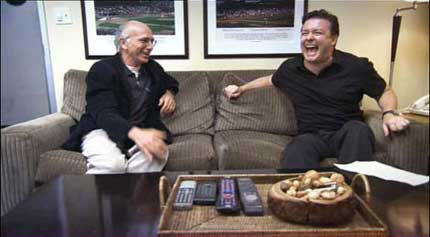 Thanks to a comment on my previous post by Tony, my new favorite reader, I got alerted that the Channel 4 special featuring a conversation between Ricky Gervais and Larry David is now available via BitTorrent. Still watching, so I'll have impressions later, but here's the link to the torrent:
Download Ricky Gervais meets Larry David.
UPDATE: Finished watching the whole thing now. The focus of the show is clearly more on Larry David, with several clips from Curb Your Enthusiasm
shown throughout. Ricky Gervais is doing the interviewing here though it's far more of a conversation than a rapid fire barrage of questions (which actually makes a very funny aside as both talk about the horrible habits of interviewers).
What struck me the most from the show is that Larry David has been lazily mislabeled a misanthrope. In conversation, he's constantly talking about connection - connections with interviewers, audiences, between characters. There's definitely a desire to be selective and for some distance, but only because he recognizes what connections are real and which are unreal. The choice to outline scenes for Curb Your Enthusiasm and let the actors come to the joke naturally makes incredible sense now… real humor comes from connection.
Ricky Gervais also has some great observations, particularly after what sounds like a unendurable night at the Comedy Store, where every comics' catchphrase was "what the fuck?", and all have un-unique ethnic experiences. Ricky talks about wanting the "right laugh" - not caring if the wrong people laugh. It's very close to what Patton Oswalt talks about with comedy not being needy.
Larry David kids that he's comfortable doing the interview because it'll never be seen in the US. Even with it available on the interweb, let's hope HBO, Comedy Central or BBC America make him uncomfortable.
More: Time Out London story.