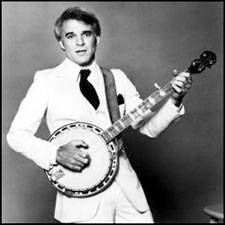 Scribner has announced that they've bought memoir by Steve Martin about his years as a stand-up entitled "Born Standing Up." There's also a suggestion that the book will be a "portrait of an era", although to my understanding, Steve Martin was a star before the comedy boom. It could be interesting to see exactly how someone made themselves into a stand-up star in the post-Vaudeville, pre-Comedy Club days. In some ways, I'm sure some of the comedy boom could be pinned to his rise as he was one of the first artists to show how big comedy can be by playing stadiums, something that was unheard of for a comedian.
Despite how you might feel about his film career (or as some argue, his writing), the book promises to be a fascinating look behind the creation of a stand-up. I remember seeing a BBC special on Martin where he described how he came to his approach to stand-up. He described how he decided, in the wake of the turmoil of the 60s, that he was going to be "silly" on stage. It sounds like it could just be observation that comes from the benefit of hindsight. But considering Martin's philosophy background and how perfectly he fit the era, I'm inclined to give him the benefit of the doubt.
"Born Standing Up" is expected in 2008, but no release date has been set.