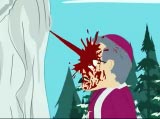 At least two bloggers have received responses from Comedy Central Viewer Services after complaining about the channel pulling an episode of South Park due to complaints from the Catholic League. According to those emails, the South Park episode "Bloody Mary" has not been pulled permanently as gloated by the Catholic League, but in fact, only briefly removed out of respect for the holidays (as my wife originally suspected). Below is the full text of the Comedy Central email:
Dear Viewer:

Thank you for your letter regarding the "South Park" episode entitled "Bloody Mary." We appreciate your concerns about the potential influences of outside special interest groups on the media and enterainment (sic) industries and particularly Comedy Central. Though Comedy Central did not include the "Bloody Mary" episode in a special year-end marathon of "South Park" episodes in deference to the Holidays, "Bloody Mary" did in fact air in every one of "South Park's" normally scheduled repeat timeslots. As satirists, we believe that it is our First Amendment right to poke fun at any and all people, groups, organizations and religions and we will continue to defend that right. Our goal is to make people laugh, and perhaps if we're lucky, even make them think in the process. Despite misleading claims from those who would like to claim victory, we have not permantly (sic) shelved the "Bloody Mary" episode from future airings due to outside pressure nor will we exclude it from future DVD releases.

Sincerely,
Comedy Central Viewer Services
To Reply: http://www.comedycentral.com/help/questionsCC.jhtml
If these emails are true, with Comedy Central's emphatic defense of free speech and sensitive respect to religious holidays, we'll probably see this episode again soon in South Park's Wednesday night spot (as long as it's not Ash Wednesday).