In the wake of Jesus is Magic, comaprisons of Sarah Silverman to Lenny Bruce are almost as cliche as hipster reporters salivating over her, contemplating just what does it means to be so funny and so fuckable (more on that at the end). It's a parallel that she's appropriately humble about. But what makes someone the next Lenny Bruce? What's the ruler here? Here's some answers from other sites as to if Sarah = Lenny and whether I find the comparison fair.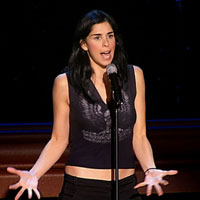 Onion A.V. Club Blog: Yes. And No. Why? She's walking a well-worn path of taboo breakers, but she walks it incredibly well. But her work isn't attempting to make an impact in society, ultimately being about itself rather than meaningful. Fair or Unfair Fair. Hysterically funny stuff doesn't have to have a goal, but I think any comparisons to Lenny Bruce would require the comics to be attempting some sort of change. David Cross is far closer to Lenny Bruce in this regard. Sarah's material lives in its own world, you live and laugh, laugh very hard, in it for the hour and you're done.
Entertainment Weekly: No. Why not? Though "blasphemous-and-proud-of-it", she lacks a connection with her own material in a way. We simply rehear stereotypes. Fair or Unfair? Fair, although she is found wanting in this category in opposition to Margaret Cho, whose material, while sharp, doesn't seem as twisted. I don't think this is necessarily a flaw, but some comics find they enjoy talking about themselves, some do not. The Sarah Silverman on stage is a character and I think it might be a function of her sex. Female comics who talk about themselves on stage are considered confessional whereas a guy who does the same is simply talking about something that happened to them. It's an annoying categorization that people place on comediennes. I think it's one reason why Sarah is so popular in a frustratingly masculine art, she avoids that limiting box by not putting her real self in her act. I 'm not sure we'll get a feminine Lenny Bruce until a comic defies that box entirely.
Cinematical: Somewhat. Why Not? Sarah will never get arrested for her material. Her struggles are against political correctness rather than establishment.
Fair or Unfair?
Unfair, considering times are different. Would Sarah have gotten arrested then for doing the material she performs now? Almost certainly. Even today, she still has trouble with some audiences who are not ready to hear her play on racial sterotypes (the infamous Chink statement and getting booed off stage by a largely African American audience for a Martin Luther King Joke.) A lack of spontaneity is a bit more daming, because she is very rehearsed and calculated. But she is capable of incredible improvisation, see her joke from the Aristocrats. She's professional, not stiff.
Now, as to Sarah "coltish looks" and "porcelin skin." I don't think Sarah's looks matter one bit to her comedy. You could easily issue "Jesus is Magic" on CD, with equal effect. (In fact, I hope they do). Her material is strong, although arguably the expressions on her face help sell some of them. Gushing over her looks is just another sign that so many comics and fans of comedy have never really exited puberty. Grow the fuck up, already.