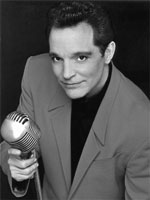 Reports have come in that stand-up comic Richard Jeni died of a self-inflicted gunshot wound. His website has currently gone dark, but I'm sure that'll be updated in time.
Fellow comic Elayne Boosler has a tribute on the Huffington Post.
According to this story Marc Maron filled in for him at the Chicago Improv this weekend.
Links:
Shecky Magazine's Report - which may be the first.
CNN Report
Thread on aspecialthing.com
Andy Nulman, co-founder of the Just for Laughs Festival, thoughts on Jeni's death - which mentions depression and a "sizable donation" to charity around Christmas.
(Changed date to 1957 based on his own website. Original date of 1962 based on wikipedia entry)
Thought I should add a bit of his work. After all, let's think of him how he lived, not how he died. Here's a routine of his about political parties.