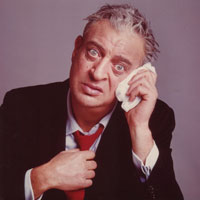 Julie Seabaugh, of the lamented stand-up mag Two Drink Minimum and now at Las Vegas Weekly, passed along some news of a forthcoming Rodney Dangerfield documentary. She recently spoke with Producer David Permut (Face/Off, Farce of the Penguins) who said:
I have a documentary that I'm editing called Respect. It's 12 years of footage filming Rodney Dangerfield. He opened his soul to me. We had that relationship which is very unique. Years ago in 1979 we filmed Richard Pryor: Live in Concert. After the success of that concert film I offered Rodney an inordinate amount of money to film him onstage and basically do his concert. He turned me down repeatedly in spite of a $5 million offer to shoot him. He loved performing live. Rodney loved coming to Vegas, and that was his passion. Making movies was a chore to him and he didn't like giving away his act in a concert film. He felt that would be a detriment to performing in Vegas and his audiences. I tired to convince him otherwise that they synergistically feed off of each other; that's certainly the way it went with Richard Pryor. But that's how I knew Rodney and we were very, very dear friends… We're distilling 250 hours of film into a documentary which hopefully will be ready for Sundance next year.
Permut put together a video tribute that played at Rodney' funeral, where he also served as one of the pallbearers. Though it obviously a disappointment that Permut could never persuade Dangerfield to make a concert film - he's right, it definitely would have sparked even more interest in seeing him live - the amount of footage and the close relationship the pair had may make for an incredible document of a comic who served as a bridge from one era to another. This and Jon Landis' upcoming documentary on the still living Don Rickles would make a great double bill.