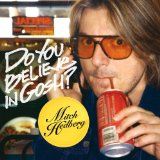 The much anticipated album from the late comic Mitch Hedberg takes one of his final shows and ultimately shows a bit more of the depth and speed of his comic mind, demonstrating that the man was more than just a joke machine. My favorite track involves some impromptu work with a friendly heckler who has all the answers, but you'll have to hear that for yourself when the album is released next week.
But here's some snippets from some of the other tracks that demonstrate how sweetly and smoothly his joke machine did work.
Here's a great ecard that's a wonderful way to introduce Mitch's album to folks who aren't necessarily the comedy nerds you and I am. It has most of the material you hear here.
"Do You Believe in Gosh?"
arrives in store September 9th.