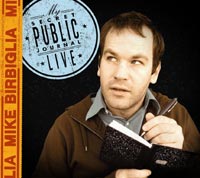 Even at the relatively early stage of his career, Mike Birbiglia has become a major talent. His work is very human and relatable, with an ability to combine both confusion and insight to stunning effect. The title of his latest album "My Secret Public Journal Live"
kind of captures the spirit of the age. What are most blogs but little secret public journals?
The original ideas were performed as stories for radio (and some were collected as such on an earlier Birbiglia album), but here they've been converted and performed as stand-up bits. In the following track, "Porno for Parents", Mike shares with us a particular virulent infection of his parents' home computer, something anyone's who come home to visit their folks might be familiar with.