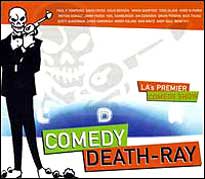 I don't live in Los Angeles, so I haven't had the pleasure of attending one of the Comedy Death Ray shows put on by Mr. Show alums Scott Aukerman and BJ Porter. But the forthcoming Comedy Death Ray CD
from Comedy Central Records gives me and other California-challenged brethren a chance to experience what we've been missing.
There's a lot of great stand-ups on this double CD set including Brian Posehn, Maria Bamford and David Cross, but a real pleasure is to have tracks from comics who don't have their own CDs… yet. Both of these tracks from Comedy Death Ray's 4th Anniversary show. The first features Andy Daly, who does some wonderful non-specific satire of stand-up (the bit has already drawn some raves), and the other is a series of one liners from Nick Thune, some of them devastating.
Comedy Death Ray will be in stores on September 11. Yes, they were quite fine with that release date.