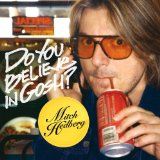 Many of Mitch Hedberg's fans are looking forward to the release of the comic's posthumous album. Mitch's widow Lynn Shawcroft, who's been putting together the tracks, yesterday let me in on the title for the album. It'll be called "Do You Believe in Gosh?"
, a phrase taken from one of Mitch's notebooks. "Do You Believe in Gosh?" will be released on September 9th.
To give you an idea of what Mitch's notebooks look like, here's a page my friend Ian Lendler sent me that they handed out at the Mitch Hedberg tribute at the 2007 San Francisco Sketchfest. Here you see a couple of jokes and then a set list for a Letterman appearance.
Update: Get a preview of the album and listen to some sample bits from "Do You Believe in Gosh?"