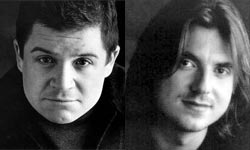 "January is Stand-Up Month" proclaims Comedy Central, with a big feature their annual online Dane Cook-takes-first-again Stand-Up Showdown. I doubt Dane Cook will be ousted this year… his huge fanbase is already getting the word with his big flash-intensive website asking them to vote for him right in the loading message.
A bit more interesting is that two of the more prominent comics in the current top 25 disliked their Comedy Central Presents performances - Patton Oswalt and the late Mitch Hedberg. Patton in talking about the forthcoming DVD of his one-hour special "No Reason to Complain"
said:
...they're putting my half-hour special [from 1999] on my DVD. I'm going to have a thing on my website saying, "If you want to see how NOT to do a stand-up special, I'm including this bonus feature: a bad stand-up special," which is what my half-hour is.
And Mitch described how much his performance had to be edited:
[The editors] changed a guy yelling, "You ain't Chris Rock!" into "Encore! Encore!" That's how bad it was. It was a weird experience. I wanted to bury that thing.
He later states that the sweetening made the show work. Even if they weren't in love with their performances, they definitely deserve votes anyway - the Showdown's more of a quick popular vote on who's funny now than a measure of the stand-up performances themselves. But when you watch the full countdown on Sunday, January 29th and wonder "how did this comic ever get this high in the countdown?" - maybe their fans just love 'em despite their off night.