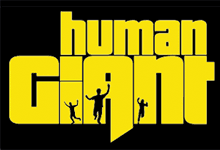 The members of Human Giant (Aziz Ansari, Rob Huebel and Paul Scheer) started showing off some upcoming video from their upcoming second season last night at the UCB. I'm going to list some of what I saw last night, but without giving away what you'll be enjoying in March (unless of course, for some bizarre reason, one of these very funny sketches didn't actually make the show.)
Paul gets some news from his grandma… from the future.
Rob as a man who gets web fame for cutting off his penis and then discovers his video isn't as popular as the slapdash videos of a guy (Aziz) making funny faces.
Osama Bin Diesel (Andy Blitz) explains, ad infinitum, how though he, Vin Diesel, got bit by a radioactive Osama Bin Ladin and received the beard and the camo jacket, he did not gain the love of terrorism. Rob shared how they tried to get the real Vin Diesel to appear in only the black-and-white flashback of this sketch, requiring no lines from the actor. Rob was turned down by his agent, who said "Sorry. This one is NOT for the Diesel."
Paul gets a job. A job eating corn chowder. Rob Riggle, as his boss, explains how that could be possibly be profitable to Aziz and Rob. "Money and Corn Chowder. It's connected." The in and outs of Paul's employment and his boss were the subject of two more videos.
The night also had guest stand-up appearances from Jessi Klein, Todd Barry, Nick Kroll and Demetri Martin. Todd Barry had great fun at the Human Giant's expense, making fun of the temporary graphics that made up the sketches. He asserted, "am I going out with temp punchlines?" beat "probably." Barry got a fair amount of mileage from it - at one point noting he only had done one joke in his first six minutes. Demetri, who noticed people might be recording his set with their cell phones, asked them to keep it to 30 seconds as he was doing some new jokes. He showed off a few leaflets he made. My favorite:
Found: One Cat. Looks delicious. Call by Friday otherwise don't bother.
If you want get a premiere of some of what Human Giant's second season, the group is showing more sketches every Monday nights at 11PM at the UCB. Get tickets as soon as they become available, because they do sell out. Admission is free save for putting whatever you want to give in the ol' Bucket of Truth.
Some other good news: material from Human Giant's brilliant 24-hour takeover of MTV will make their upcoming Season One DVD. That marathon had appearances by nearly everyone revered in comedy circles. A full list can be found on the Human Giant blog. Mouth watering, isn't it? Can't wait 'til March. If you're intrigued, the first season DVD of Human Giant is available for pre-order on Amazon.