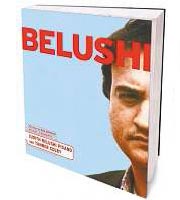 John Belushi, more than twenty years after his death, has finally received the biography he deserves. "Belushi
" assembles anecdotes and stories from John's family, friends and collaborators in the oral history style of "Live from New York"
. The form befits "Belushi" more than "Live," fitting the form of a scrapbook where the phrase "Eat a Bowl of Fuck" is the norm. I talked with Tanner Colby, co-author of the book with Judy Belushi Pisano, via e-mail about the book and the man. You can meet Tanner, Judy Belushi Pisano and the webbed wonder Dan Aykroyd at
the Lincoln Center Barnes & Noble (66th & Broadway) tonight at 7 PM for a signing/discussion.
As a comedy writer who didn't have the chance to work with John Belushi, did collecting these interviews ever make you feel like the guy who arrived late to the party (i.e. "You shoulda seen this guy…")?
Quite the contrary. I was six years old when John died, so the chances of my making it to that party were fairly slim. Collecting the interviews, and helping Judy set down the definitive portrait of John and his era, let me be a small part of what went on in those days, which was pretty damn great.
Obviously this book will be contrasted against "Wired," which could have been about Len Bias or anyone else who died of an overdose. It's not about Belushi the man or the artist. Yet, the book doesn't shy away from John's dark side. It's a complicated portrait. Was there any temptation to remove the warts to balance out Wired's portrayal?

We never wanted to remove the warts. We just made the editorial decision not to put them under a laser microscope. Everyone knows how John died. It's old news. We chose to focus on the good things, and, given the inevitable ending, that made the story all the more tragic.
Some in the book describe Belushi as having lived three lives, his time broken into eight hour shifts with different friends. How many of those lives do you feel you've captured in Belushi? Do you feel "Wired" captured any of them?

Our book captures all three sides of John, I think. There's the hardworking actor dedicated to his craft, there's the warm, generous and lovable guy who was everybody's best friend, and then there's the wild and self-destructive John who was racked by his own insecurities and driven to extremes. Wired focused exclusively on the third, but even then Woodward didn't portray it accurately because you can't understand it without the contrast of the other two.
So many comics have the identity of "the outsider," something that John Belushi would not seem to have (considering his charm and charisma, not to mention being homecoming king.). Does Belushi truly buck this stereotype?
Growing up, John was most certainly the outsider, the bushy-haired Albanian kid in the lily-white suburb of Wheaton. And he was also an outsider at home where he had little in common with his oppressive immigrant family. I think that's why he worked so hard to become the consummate insider, whether that was as Homecoming King or the life of the party at the Odeon. But, deep down, he always felt that insider status was undeserved, and that it would all slip away—like every other comedian.

Belushi is described as bringing a "street element" to Second City, much as Michael O'Donoghue did with the National Lampoon. Do you think comedy tends to need wake-up calls from street-smart humorists? Do we need one now?

Yes, and yes. When SNL is nothing but a parody of US Magazine every week, it'd be nice to see satire with a little grit and teeth to it.
Considering he's in so many imaginations as Bluto, it will probably be surprising to some readers that Belushi produced The National Lampoon Radio Hour for a time. He was far more than just an explosive wild man. Do you feel Belushi's comedic gifts are misunderstood at all?

Not misunderstood, just underappreciated. Everyone knows about the talent as a physical comedian that John brought to SNL and Animal House. What's less known is that, both creatively and professionally, he was a real trailblazer. John created the character-based style of improv that dominates Second City today and influenced everyone from Bill Murray to Chris Guest. And it was John's clout in the industry that helped launch the careers of all those people.
Belushi, with his big entrances and attention-demanding small roles, doesn't seem entirely dedicated to the group mind improv aspires to. Yet, it's obvious that he did have a hold on audiences that couldn't necessarily be contained. Was Belushi just too big for any ensemble?
I don't think so. In Animal House he's the standout from the entire ensemble, but he also works well within it. John could be great with an assist when you needed it. As Peter Riegert (Boon from Animal House) put it, "John was a generous actor. He never needed me to fail for him to succeed. He didn't need my oxygen." In fact, I think John's one of the best examples of how to be a team player and a star at the same time.
With 70's era SNL no longer in reruns, many younger readers may only know John Belushi from two films, Animal House and Blues Brothers. What to your mind is essential Belushi besides those three?

Some of the National Lampoon Radio Hour stuff is great, and by all accounts his live work at Second City is unreal, though there's no way to go back and capture it. Sadly, there's not much else, and that's really a big part of the tragedy.
As a comedy writer, was there any particular lesson you have learned from examining Belushi's life so closely?
Yes and no. More than anything it was a fascinating study in human psychology. Talking to people like Harold Ramis and Chris Guest and Robin Williams, guys who have seen it all, I probably learned more about life than I did about telling jokes.
What are you working on next?
I am starting on a similar project about Chris Farley, second in a series if you will.
Another great interview with Tanner Colby and Judy Belushi Pisano can be found on Jesse Thorn's Sound of Young America Radio Show. More on the book can be found at the Official Website of the book Belushi