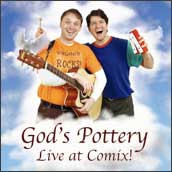 Comedy Central Records is experimenting with putting out some albums digital only. The lead off for this is the EP "God's Pottery: Live from Comix" from the faux Christian group God's Pottery. With songs like "A Brand New Start with Christ" which asserts the superiority of Christianity over Judaism and Islam, God's Pottery plays against them with some aggressively cheerful patter that's just as judgmental. A friend of mine once wondered if the pair could actually play at an Evangelical event and the attendees not know. Well, they might get tipped off the word "shitstorm" in the fourth song "Jesus I Need a Drink." If you like the comedy to be sacrilegious in disguise, this is for you.
Normally, I'd give a track here, but the EPs is less than $4. Do I really need to tease one track out of four? In lieu of that, however, here's a little video snippet which catches the group in the process of mixing their CD:
Comedy Central Records has got a couple of more digital releases coming up before the end of the year. On December 18, Comedy Central takes Hard 'n Phirm's previously released album "Horses and Grasses" online and also gives us a single from Mike Birbiglia entitled "Medium Man", which should be familiar to any of those who saw his college tour.