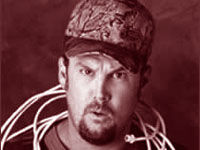 Recently I had an opportunity to talk via e-mail to Larry the Cable Guy (real name Dan Whitney) on the release of his new album The Right to Bare Arms
. The transcript after the jump is unedited.
Sorry about all the SHOUTING.
When and how did you discover your voice? Did you struggle against being a redneck on stage at first?
I NEVR REALLY DISCOVERED IT. IT WAS JUST THERE. I GREW UP IN THE MIDDLE OF NOWHERE AND HAVE ALWAYS HAD A FRIEND OR 2 THAT TALKED WITH THE SOOUTHERN ACCENT. I LIVED IN A SMALL TOWN IN NEBRASKA. IT WASNT THE SOUTH HOWEVER I STILL HAD A FEW FRIENDS THAT HAD SOUTHERN ACCENTS. WHEN I MOVED TO FLORIDA IT PRETTY MUCH SEALED THE DEAL BECAUSE ALL MY FRIENDS I HUNG OUT WITH SPOKE IN THE SOUTHERN ACCENT. I CAN POP IN AND OUT OF IT PRETTY MUCH WHENEVER I WANT. IM MORE AT EASE USING IT AND I USE IT ALL THE TIME EVEN OFF STAGE. I NEVER STRUGGLED ON STAGE WITH IT. I STRUGGLE MORE WITHOUT IT. ITS JUST SOMETHING IVE DONE FOR A LONG TIME.
What are the roots of "Get R Done?" How did you come up with it?
I JUST MADE IT UP ONE DAY WHEN I SIGNED OFF DOING A SOCIAL COMMENTARY ON A RADIO STATION IN TAMPA. IT WAS JUST SDOMETHING I USED TO SAY AND SINCE I DID IT EVERY WEEK ON THE RADIO IT KINDA CAUGHT ON. IT MEANS GIVE A HUNDRED PERCENT, DONT QUIT, JUST WHATEVER YA GOT TO DO, GIT-R-DONE! ITS A GOOD ALL AMERICAN WORK ETHIC BLUE COLLAR PHRAZE. IM GLAD PEOPLE SAY IT. I SAID YIPPER DIPPER RIPPER STRIPPER TOO BUT THANKFULLY FOR AMERICA IT NEVER CAUGHT ON!
You say, "I don't care who you are, that's funny." Are you finding that you are crossing over with other audiences now?
YA I THINK ITS COOL THAT OTHER CROWDS LIKE WHAT I DO. HOWEVER IVE ALWAYS HAD A GOOD MIX OF PEOPLE AT MY SHOWS. I STARTED DOING THINGS ON RADIO ON ROCK MARKETS AND ALTERNATIVE MARKETS. IVE ALWAYS BEEN A COUNTRY TYPE ACT HOWEVER I STARTED WITH THE ROCK MARKET. IM VERY INTERCHANGEABLE. IM LIKE DONNIE AND MARIE, A LITTLE ROCK AND A LITTLE COUNTRY HOWEVER MORE COUNTRY.
The Blue Collar Comedy guys have been big for a while in what some small-mindedly dismiss as the "flyover states." Is it more than a little satisfying to finally get recognition from the mainstream entertainment industry?
YA I GUESS. I ALWAYS HAVE DONE WELL HOWEVER IN BLUE STATES AND RED STATES. IVE NEVER REALLY ALIGNED MYSELF WITH ALL THAT RED STATE BLUE STATE DR. SUESS CRAP BECAUSE WERE ALL AMERICANS AND WE ALL LIKE TO LAUGH. AS FAR AS THE MAINSTREAM MEDIA GOES I THINK THEY COVER IT BECAUSE THEY HAVE TO BECAUSE WE GOT SO POPULAR. I STILL DONT THINK THEY GET IT BUT THEN AGAIN THE MEDIA DOESNT BUY TICKETS SO WHO CARES WHAT THEY THINK. WE HAVE AWESOME CROWDS AND I LOVE 'EM TO DEATH!
You are the son of a preacher. What difficulties do you have being a good Christian AND a good comedian? How do you feel about fundamentalists' attempts to get the FCC to tighten restrictions on television?
THE FACT THAT MY DAD IS A PREACHER HAS NOTHING TO DO WITH ANYTHING. HE PROBABLY WOULDN'T AGREE WITH SOME OF MY MATERIAL BUT THEN AGAIN THERE'S NO SIGN ON MY COMEDY EVENT THAT SAYS "REVIVAL HERE TONIGHT". IM SURE GOD HAS MORE IMPORTANT THINGS TO DO THAN GO TO MY 8 OCLOCK OMAHA SHOW. THE SHOW IS THE SHOW AND CHURCH IS CHURCH. IM NOT TELLING JOKES AT CHURCH. BESIDES THE LORD ALREADY KNOWS ALL THE PUNCH LINES. AS FAR AS FUNDEMENTALISTS TRYING TO GET THE FCC TO TIGHTEN RESTRICTIONS ON TV I SAY ITS NOT JUST THEM. I KNOW PLENTY OF LEFT WING LIBS WITH KIDS THAT ARE JUMPIN' ON THAT BAND WAGON AND I THIN K IT SUCKS THAT ONLY CHRISTIANS GET LABLED AS THE ONES TRYING TO DO IT. MY NEIGHBOR IS A LIB TO THE MAX AND HE WAS THE FIRST ONE TO TRY AND BAN CHEERLEADING AT SCHOOLS BECAUSE IT WAS TO SEXUALL AND THAT GUY AINT BEEN TO CHURCH IN 25 YEARS. AS FAR AS WHAT I THINK WHO CARES, IM A COMEDIAN WHO THE HELL WANTS A COMEDIAN TO MAKE POLITICAL DECISIONS. I JUST WROTE A JOKE ABOUT FARTING SO HARD MY BACK CRACKED FOR GOD SAKE DO YOU ACTUALLY THINK I GOT TIME TO SOLVE THE FCC DEBACLE!
You obviously admire your Blue Collar compatriots. Who do you admire outside the current country comedy scene and why?
I LOVE NICK DEPAULO AND LEWIS BLACK. NOT ONLY BECAUSE WERE BUDDIES BUT THERE BOTH HYSTERICLE. I DONT AGREE POLITICALLY WITH LEWIS ON TO MUCH OF ANYTHING BUT THE GUY CRACKS ME UP. I THINK HES ONE OF THE GREATS. NICK HAS THAT RIGHT WING SARCASTIC DONT GIVE A SHIT DELIVERY AND HAS SOME OF THE FUNNIEST JOKES AROUND. I LIKE BOTH OF THOSE GUYS. I COULD LIST MORE BUT IM GETTIN' CARPEL TUNNEL!
Some believe that your Larry persona and accent is actually a satire of rednecks. Do you feel your act is at all satirical of Southern values?
MY ACT IS 'NOTHING BUT COMEDY. I TALK SOUTHERN BECAUSE I PICKED IT UP WHEN I MOVED TO THE SOUTH. IM NOT TRYING TO MAKE ANY SOCIAL POLITICAL POINT, NOR AM I TRYING TO MAKE FUN OF REDNECKS. I GREW UP A COUNTRY KID AND WILL ALWAYS BE ONE. I GREW UP WITH PEOPLE THAT SAID CERTAIN THINGS FUNNY AND I PREFORM USING THE SAME LANGUAGE BECAUSE I FIND IT HYSTERICLE. THATS IT. ITS A COMEDY SHOW THAT IS FUNNY AND THATS IT. YOU ASK ME IF ITS SATIRICLE OF SOUTHERN VALUES? I THINK YOU LOOK TO FAR INTO THIS STUFF. ITS 'NOTHING BUT A COMEDY EVENT, A TIME FOR PEOPLE TO GET AWAY FROM THINGS FOR A WHILE AND LAUGH. SATERICLE OF SOUTHERN VALUES? I DONT TAKE MYSELF THAT SERIOUS. WHAT VALUES?! I JUST WROTE A NASCAR JOKE ABOUT THE VIAGRA CAR BEING THE ONLY CAR WITH WINDSHIELD WIPERS ON THE INSIDE. THERES REALLY 'NOTHING HERE WORTHWHILE ENOUGH TO CALL AN EMERGENCY SOCIAL MEETING ABOUT!
When some comics want to satirize a stereotypical intolerant Southerner, they'll slip into a voice similar to your own. Do you think that causes some critics to misjudge your comedy?
I COULD CARE LESS ABOUT CRITICS, LIKE I SAID THEY DONT BUY TICKETS. AS FAR AS COMICS SATERISING INTOLERANT SOUTHERNERS THEY HAVE NO CLUE. THE SOUTH HAS SOME OF THE NICEST AND KINDEST PEOPLE ANYWHERE AND IM GLAD THAT WHEN I LEFT NEBRASKA WHEN I WAS A KID I WOUND UP IN FLORIDA. ARE THERE INTOLLERENT PEOPLE HERE, SURE THERE IS JUST LIKE THERE IS IN ALL THE OTHER 50 STATES. AND AS FAR AS COMICS MAKING FUN OF THE SOUTHERN STEREOTYPE I REMEMBER WATCIN' THE MOVIE GATOR ONE TIME (I WATCH ALL THE CLASSICS) AND BURT REYNOLDS CALLED A GUY "BAMA" AND ANOTHER GUY "TINY" AND ANOTHER GUY "SQUIRELL" AND THE GUY HE WAS WITH FROM NEW YORK CITY SAID "DOES EVERYONE IN THE SOUTH HAVE STUPID NICKNAMES?" AND BURT SAID "YA MEAN NOT LIKE SOPHISTICATED NAMES IN THE NORTH LIKE "YOGI"! ITS ALL RELATIVE I GUESS. BOTTOM LINE, WHO CARES. PEOPLE NEED TO GET A SENCE OF HUMOR AND QUIT BITCHIN' ABOUT TRIVIAL THINGS. BELIEVE ME, I JUST TOURED THE DUKES CHILDRENS HOSPITAL AND SAW THE KIDS AND THATS THE KIND OF STUFF THAT MATTERS IN THIS WORLD NOT THIS GARBAGE.
Doug Stanhope put an open letter on his website asking you to "Die Tragically" to prevent the spread of "Get R Done." How do you feel about other comics being annoyed by the call outs of your fans?
I THINK ITS FUNNY. LOOK I GOT 'NOTHIN' AGAINST STANHOPE. I MET HIM BEFORE AND THOUGHT HE WAS A NICE GUY. IF HE HAS A PROBLEM WITH ME THAN THATS HIS PROBLEM. I THINK HES A FUNNY GUY AND MORE POWER TO HIM. IF PEOPLE YELL OUT GIT-R-DONE ITS NOT MY FAULT. I DONT TELL 'EM TO GO TO STANHOPE SHOWS AND YELL OUT GIT-R-DONE. I LOVE MY FANS AND IF THEY WANT TO YELL IT OUT GOD BLESS 'EM ITS A FREE COUNTRY. IF SOMEONE YELLS IT OUT THAN GET A LAUGH OFF IT AND MOVE ON. IT AINT ROCKET SCIENCE.
Dave Chappelle was plagued by his own fans yelling, "I'm Rick James, bitch!" Do you ever wish people wouldn't yell "Get R Done!" at you so much? Does the yelling ever step on any of your own punchlines?
I LOVE IT. MY FANS CAN DO WHAT THEY WANT EXCEPT POOP ONSTAGE. I DRAW THE LINE AT THAT. YA WANNA DO THAT THEN GO SEE MARYLIN MANSON. IT DOESNT ANNOY ME. IM BLESSED TO HAVE FANS AND THEY USUALLY GET IT OUT OF THE WAY EARLY AND THEN KICK BACK AND HAVE FUN. MY FANS ROCK!
I see a lot of comics doing politically incorrect bits similar to yours, but since their jokes about race and sex are considered "ironic", they'll get a pass. Do you think this is fair?
WHATEVER, THATS JUST THE WAY THE COUNTRY IS RIGHT NOW. I CANT CHANGE IT. THE ONLY GOOD THING IS MY FANS LIKE ME AND COME TO SEE ME AND THATS ALL THAT MATTERS. EVERYBODY ELSE CAN KISS MY ASS. IF THEY DONT LIKE MY POLITICAL INCORRECTNESS THEN THEY CAN KEEP THEIR UPTIGHT P C ASS AWAY FROM MY SHOW. ITS THAT EASY. I HAD A CRITIC ONE TIME BLAST ME FOR DOIN' RETARD JOKES AND THIS WAS THE SAME CRITIC THAT LOVED THE MOVIE "WHAT ABOUT MARY" THAT WAS ONE BIG RETARD JOKE. GO FIGURE. IT DOESNT MAKE ANY SENCE.
While there's no dirty words of "The Right to Bare Arms", content-wise it's full of innuendo about pubic hair, strippers, prostitutes and wieners going up your own butt crack. Was it difficult to get the album into Wal Mart?
I LOVE WAL-MART. I CONSIDER MY JOKES TO BE VERY JEUVINILLE. STUFF A 14 YEAR OLD WOULD LAUGH AT BECAUSE THATS THE SENCE OF HUMOR I HAVE. ALL THE STUFF I TALK ABOUT MAY NOT BE APPROPRIATE FOR CHURCH GROUPS HOWEVER WAL-MART AINT SUNDAY SCHOOL. AS LONG AS I DIDNT USE OFFENSIVE FOUL LANGUAGE I KNEW ID BE FINE. WAL-MART GETS IT, THATS WHY THEY BLOW AWAY THE COMPETITION. BESIDES ITS THERE STORE THEY CAN DO WHAT THEY WANT. THATS AMERICA BABY!
Most of your shows take place at concert halls. Do you ever miss the intimacy of the comedy club environment?
I LOVE THE COMEDY CLUBS AND THE CLOSENESS OF THE CROWD. HOWEVER THE MORE YA DO THE BIG ROOMS THEY START TO BECOME YOUR HOME AS WELL AND YOU ADJUST TO THE SURROUNDINGS. I LOVE THEM BOTH. I MISS THE CLUBS BUT THATS WHAT YA WORK FOR TO DO THE BIG ROOMS!
Do you ever get the urge to be like Garth Brooks and create a "Chris Gaines"-like character who performs alternative comedy?
I ALREADY HAVE. LAWRENCE THE TELEGRAPH GUY. A BRITISH GUY WITH TERETS. (KIDDING) I WOULD BUT WE KNOW HOW THE GARTH THING TURNED OUT SO ILL STEAR CLEAR OF THAT FOR A WHILE.
External Link: Larry's favorite TV Shows ever.