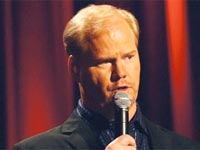 A friend of mine insists there are four great subjects for humor, the most potent of which is food. I suspect he would greatly enjoy Jim Gaffigan, whose new Comedy Central special "Beyond the Pale" sees him playing with food… eating it, ordering it, the boxes it comes in. His "Beyond the Pale" CD, DVD and recently redesigned website are all arriving with a precision synergy that media companies salivate for. In a world of audiences are increasingly narrow, Jim Gaffigan specializes in the universal, in entertainment that's for everyone but not in a way . Smart observations about things like Christmas decorations are played against Jim's trademark running soft-spoken asides as a perplexed and somewhat literal audience member ("He's anti-Christmas."). The following interview was conducted via e-mail.
You were raised to believe success was to be found in a suit and tie, having a day job. How does that influence you today at the level of success you've achieved?
Well, I hate dressing up. I barely can motivate to shave. I guess what remains from my upbringing is a desire to have some security. Keep my kids fed.
Many comedians, including yourself, have been pushing for their fans to vote for them in the Stand-Up Showdown. Do you think Comedy Central uses the results to determine future programming or is the push for votes more of a pride thing?
Honestly Comedy Central is a mystery to me. I'd think the results would have some impact on them but I guess not. Paul F. Tompkins (brilliant in my book) won last year and I doubt CC came running with a development deal. I think Comedy Central really uses it to drive up hits to their site so they can get more money for website ads.
The contest is silly really. Comedians are all different. It's like having on contest on favorite food. Hot Dog vs. the Potato chip. I enjoy them both… I'm confusing myself but you get the point. It is some pride for comics. For instance, I just want to be in the top 25.
When you started performing stand-up, you've said you wanted to be like Dave Attell. What did you learn from watching him? You work completely clean now but did you aspire originally to be dirty?
Attell is a genius. Really one of the best writers today. I learned so much from Dave. For instance, word economy and attempting to make a joke undeniable.
I never aspired to be clean or dirty. I just want to work with out any crutches really. Any stand up would tell you that a curse word always seems to make a joke get a better reaction and can save bad jokes.

We know you'll be talking about food during your special, so people are going to get hungry. It's Pavlovian. What would the best thing to eat while watching?
Mmmmm. So many things. You could eat a hot pocket but you might have to watch from the toilet.
Jim Gaffigan's stand-up special "Beyond the Pale" airs this Sunday on Comedy Central at 9 and 10 PM (8 & 9 Central). The "Beyond the Pale" DVD
, with extras like the facetious "How to Be a Stand-Up" and his first stand-up performance (which actually is a good lesson for aspiring stand-ups), and the "Beyond the Pale" CD
arrive in stores February 7.