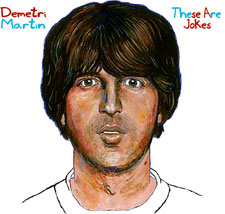 Here's an exclusive track from the upcoming CD by Demetri Martin entitled These Are Jokes
. The album was recorded earlier this year at Chicago's Lakeshore Theater and will be released on September 26.
This clip features Will Forte joining in with Demetri for "The Personal Information Waltz." It plays with idea of callbacks in a very surprising way. Enjoy.