Category:

Other

Filed Under Other, Stand-Up Comedy

Judd Apatow's upcoming film "Funny People" has a huge viral media blast going on, with a lot of it centered around Aziz Ansari's character in the film Raaaaaaaandy, who I always assumed was going to be a lot of what's wrong with modern stand-up. The latest piece is this faux documentary of the character by Ansari and Jason Woliner, the director and 4th member of Human Giant. Let's watch, unless you're at work, because there's some borderline NSFW stuff here:

Maybe it's because I know Ansari's own performing style well or I'm used alt comedians doing incredibly annoying characters as a bit, but I don't see Raaaaaaaandy the way I've assumed I'm supposed to see him. So I don't really think this is targeting any particular stand-up at all. Because the difficult thing about terrible comedy is that the characters, just like the perpetrators of bad comedy in real life, have to be absolutely sincere that what they do is funny. But, as Raaaaaaaandy might say, this video winks at me like a muthafucka. And Ansari's just so naturally funny, he actually makes Raaaaaaaandy look like he has some nascent skills.

In the context of the film itself, this may very well play differently. And this isn't to say, I'm not laughing my dick off at this. Because I am. Particularly at DJ Ol' Youngin, who does come off completely committed to his shit here. Maybe it's because I don't know him outside of this vid is why I absolutely buy it.

The most annoying to me about Raaaaaaaandy is his name and how he spells the damn thing. It should be Rannnnnnnndy. 8ns not 8as!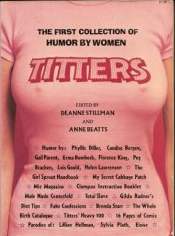 An illustration of the depth of my comedy geekdom. Today, out of the corner of my eye while grabbing lunch, I spotted a copy of the 70s humor anthology "Titters"
on the book trucks outside the Strand, the big NYC used book store.
Published in the 70s around the heyday of both National Lampoon and Saturday Night Live, "Titters" claims to be the first collection of female humor and was put together in part by SNL and Lampoon writer Anne Beats and art directed by John Belushi widow Judy Belushi Pisano (nee Jacklin) with contributions from people you'd know like Gilda Radner, Candice Bergen, Laraine Newman, Phyllis Diller and Anne Meara.
It's not necessarily a major classic, but a minor one. And I wanted it. The reason I saw it was some other man was looking at it - I speculate because the cover is, ah, a bit more male friendly than you'd expect for an anthology of women's humor. So I pretended to browse until he put it down. And I continued to pretend to browse after a second man picked it up before I could get to it. Reading the one page "Sylvia Plath Cookbook" from the book makes me glad I waited those two probably confused guys out.
There's not necessarily a lot of stuff when it comes to be a collector of comedy stuff. It's one of the saving graces of the fandom. But I'm curious - is there a comedy rarity that you found in a record store, book store, eBay or over the web as a torrent that you took more than a little joy in discovering?
Filed Under Other
On Saturday, I also talked to Dave Attell outside the Comedy Cellar who mentioned the need for… um… talent to be part of his upcoming revival of the Gong Show for Comedy Central. His message to you:
Help me kill American Idol. If you're a weird freak with a debatable talent, write me at .(JavaScript must be enabled to view this email address)
The new Gong Show will premiere on July 17.